The Models I Offer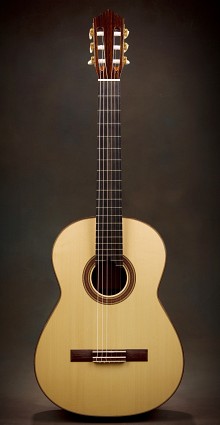 Concert Classical
As my distinguishing model, the Scott Concert Classical guitar possesses a full, open, orchestral sound. It borrows heavily from the historic work of past masters, and tailors these influences to meet the needs of today's guitarists. Available scale lengths: 640, 643, 645, 648, 650, 655, 660mm.
Price: Starting at $6,900CAD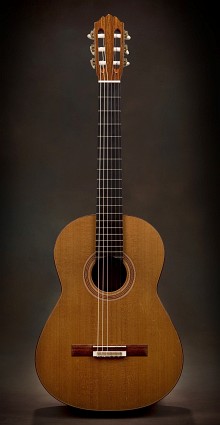 Concert Short Scale
Featuring my characteristic powerful, refined and noble concert sound, Scott Short Scale guitars are true concert instruments designed to suit musicians with smaller hands. To achieve the optimal fit to the player, this model is available in a multitude of scale lengths 613.5mm and longer.
Price: Starting at $6,900CAD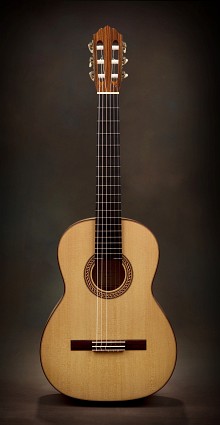 Modern Terz
While the terz guitar was originally a nineteenth century phenomenon, I offer a versatile modern equivalent which is more similar in design to a contemporary concert guitar. Its powerful, brilliant and lyrical tone projects clearly, balancing very well with any accompaniment including piano and orchestra. Beyond nineteenth century repertoire, the brilliance and higher pitch of this model are an asset in modern solo and ensemble music.
Price: Starting at $6,600CAD
Materials & Options
Every Scott guitar is made entirely from the very finest quality woods that are seasoned for many years.
Soundboards
All of my guitars come with your choice of the finest spruce or Western Red Cedar available. The exact variety of spruce chosen has a considerable impact on the guitar's sound. I generally use spruce from a few regions of Europe, but some North American spruces are very successful options too. The choice of top wood does not affect the price of a guitar.
Backs &amp Sides
I offer a number of options for the backs and sides of my guitars. The following list includes the most common choices, but I offer other woods too. If you have something else in mind, inquire about availability. The prices listed here show the cost each option adds to the base price of a guitar.
Indian Rosewood (Dalbergia Latifolia) + $0

Indian Rosewood has always been the first choice of many luthiers throughout history. It is my favorite rosewood and my most popular option as it strongly delivers everything a superb concert guitar needs.
European Maple (Acer Pseudoplatanus) + $150

A visually and acoustically gorgeous wood with a long musical history. This is the same species of maple that bowed string instrument makers treasure, not to mention the frequent choice of Torres for his most important commissions.
Other Materials
Neck

- Spanish Cedar or Mahogany

Fingerboard

- Ebony

Bridge

- Brazilian, Madagascar or Indian Rosewood

Soundboard Bracing

- Split from spruce and cedar billets

Back Bracing

- Spanish Cedar or Mahogany

Finish

- French Polish or Oil Varnish

Tuning Machines

- Gotoh 510

Case

- TKL Deluxe Double-Arched
Custom Options
Elevated fingerboard

+ $400

Sound port with magnetic cover

+ $250

Sound port without cover

+ $125

Arm rest

+ $200

Tie block decoration

+ $50

Position marker dot(s)

no charge

20th fret for e or e & b strings

no charge

Alessi or Gilbert tuning machines

list price - inquire for options

Custom case

list price - inquire for options
There are obviously many possibilities that have not been mentioned. Some will increase the price but others will not - let me know your ideas.